Putting on a pretty necklace on your bunny has been a part of its grooming routine. If you want to add style, then you better try these necklaces for pets. Aside from being stylish and decent, these top 7 products are so pet-friendly. 
#1. PET SHOW Necklace for Rabbits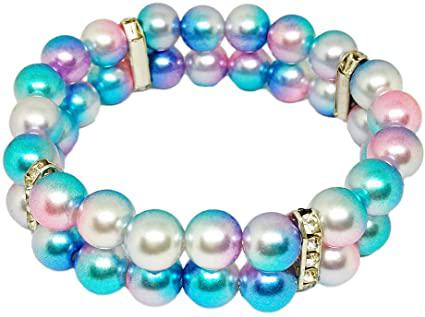 This affordable pet-friendly necklace for bunnies is one of the best accessories that you can buy for your pet. It is a handmade product featuring rhinestone faux pearl beads that shimmer in colors blue, white, and pink. 
It is available in sizes small, medium, and large. The smallest size measures 8" while it's 10" for medium. The largest size is 12". So, you better check first your pet to get the best size for him or her. 
This pet-friendly necklace for bunnies is sturdy and comfortable. It's a beautiful necklace that best suits small and medium-sized pets like cats, dogs, and rabbits. 
This necklace is best to use for a weekend party outfit, birthday party, wedding, or as a gift for any holiday or special occasion. It can make your rabbit look more attractive and sophisticated. 
#2. Succeedtop Collar with a Bell for Rabbits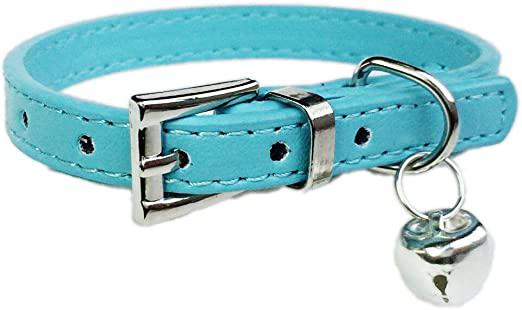 If you want something simple but nice, then you might be looking for this. It's a cute pet collar that is not only for dogs and cats but even for rabbits, too. It is made of synthetic leather and other premium materials.
The collar itself comes in a beautiful shade of blue, making it a good choice even for rabbits. Available in different colors to choose from. Your pet's safety and comfort are guaranteed. 
#3. Lebbeen Bow Ties and Neckties
You can also try some bow ties or neckties for your bunny. This option comes in a pack of 10. 5 of them are bow ties, while the other 5 are neckties. All pieces are available in different and unique designs. You'll get up to 10 unique patterns. 
These bow ties and neckties are ideal for daily use. Your pet may also wear them for parties, special occasions like weddings, or when taking family photos. 
All these accessories are adjustable for a perfect fit. So, your pet will stay comfortable even when worn for hours or throughout the day. 
These accessories are also easy to wear and remove. They have breakaway buckles that make the job easier. 
These neckties and bow ties will fit neck sizes from 7.5" to 15.7".
#4. Dogs Kingdom Crystal Crown Necklace
This necklace is large enough. The main chain measures 10 inches, and the extending chain is 2". So, it is pretty easy to adjust to fit the neck of your pet.
It's a classic, trendy necklace for dogs, cats, and even rabbits. It shines with that sophisticated bling filled with diamond rhinestone. Those beautiful stones will add a personalized charm to your pet.  
This necklace is easy to wear and fit. The rhinestones of this collar were ornamented by alloy. Thus, it can help prevent the rhinestones from falling off, making it a highly sturdy collar. 
What makes this product more compelling is that it comes with a 100% money-back guarantee. So, you can easily ask for a refund just in case you think the product is not good for your bunny. 
#5. CatYou Handmade Collar with Pompom
This handmade collar is good for dogs, cats, and rabbits. It can fit the neck circumferences 6.5" to 12.5". It's best to take a measure of your pet to achieve a perfect fit. 
Unlike other necklaces made for pets, this one is 100% handmade. The collar was knit by a soft strap made with cotton. The collar itself is very easy to adjust to keep your pet feeling comfortable while keeping this necklace on her neck. 
The collar looks more enticing with those eye-catchy plush balls. It will be a great accessory for dogs, cats, and rabbits. 
#6. ThePass Pet Bell Pendant
This is a simple accessory that you can put on the neck of your dear pet. The collar's texture is soft and comfortable. For sure, your pet won't complain if you leave it on for hours. Your pet will stay feeling comfortable.
Rest assured, this necklace for pets is safe to use. Thanks to those materials used in its construction. The product is made of healthy and eco-friendly materials that won't hurt your bunny.
Its length is pretty easy to adjust, so this necklace can fit into small to medium-sized pets. It features a buckle that makes putting it on and taking it off quickly and conveniently. The buckle is lightweight and durable. The strap looks good with the microfiber webbing and reflective material. The necklace also comes with a sturdy D-ring.
#7. ANIAC Elastic Lace
This elastic lace is perfect for cats, small dogs, and rabbits. It can fit neck circumferences ranging from 3.1" to 7". It has been crafted using acrylic fibers that make the lace soft, comfortable, and so easy to wear. Cleaning and washing is also a breeze.
The lace looks great with that bright shade. Those jingle bells are making the lace more pleasing to the eye. Best to use when taking your pet to parties: Halloween, birthdays, Christmas, and other occasions. It is also perfect for daily use.
Tips in Picking the Best Necklace for Your Bunny
While the market seems to offer more choices when it comes to necklaces for rabbits, you can't be sure that all of them are good for your pet. To have a regret-free purchase, you must take into account the following:
Check the Sizing
Necklaces for rabbits can be long and adjustable to fit every pet's neck. However, it is still important to take a measure of your pet's neck before making a purchase.
This is to be sure that the length or circumference of the necklace you have planned to buy will fit enough. Your pet may get choked if the lace is too short while a too long one may easily fall off your pet while it hops around the backyard.
Check the Materials
Avoid buying any necklace for rabbits without being sure of how safe and friendly it will be for your bunny. To be sure, look for those necklaces coming from the most trusted brands.
Also, you may want to check how durable the necklace is, especially if you see and feel that your pet loves what's on her neck. If that is the case, then the necklace should be strong enough to withstand daily use. Likewise, it must allow easy washing if it's susceptible to getting dirty and smelly.
Check the Necklace for Comfort
Every rabbit is different. So, when buying a necklace for your pet, make sure it will make the animal comfortable even with extended use. It's normal for the bunny to feel awkward when having something on its neck. That could happen if your pet just got its first necklace. In the long run, it should get used to wearing a necklace.
Conclusion
Aside from providing toys for rabbits, your pet will be so happy if you buy it a good necklace. It has to be a quality one – something durable but easy to wear. More importantly, it should make your pet feeling comfortable while adding a sophisticated flair.