As a pet parent, you solely consider what will be best for your lovely rabbits. Not only that, you are very careful in giving them their food, but you are also meticulous in looking for the things they need. Giving them much love means giving them comfort. Not only for their desires, but also for their safety.
As you get close to your bunny, your daily activities require their presence so you can be more comfortable, and at the same time, you don't want to miss them that much, especially when you are going out on a family vacation, or tour. In your desire to be with them, one of the things that you will need to safely bring them is a rabbit carrier.
In this article, I will be more in particular in discussing the best rabbit carriers that you can find in the market today. But before we even proceed, let us talk about the factors that a carrier must-have.
What are the factors for consideration?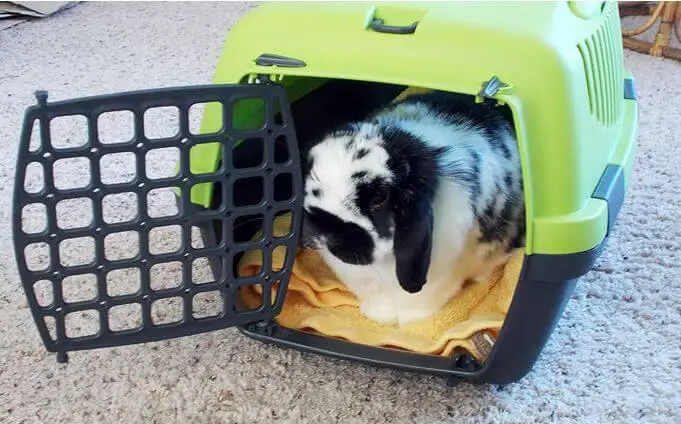 Just the same consideration when you are buying your household product, durability is one of the essential things that you should consider. Not only that, it can last for long, but also it can save your money. When we talk about durability, a good rabbit carrier should be made with durable plastics such as polycarbonate, UHMW, BS, and PPSU. When it comes to cloth type of carrier, a great rabbit carrier should be made with leather or nylon that has waterproof features to ensure cleaning efficiency.
Of course, ventilation is also a factor. You do not want your rabbit to stay in a carrier that he can barely breathe uncomfortably. A good carrier comes with great ventilation, which can make rabbits feel very comfortable while being transported.
I am sure that you are a pet parent that doesn't want to make your rabbits go out from their carrier when being transported. A good carrier comes with secure wire with a safe enclosure feature when it is made in plastic, and when it comes to cloth made carrier, it should have a great quality of enclosure or zipper that can't easily be damaged or destroyed.
No one wants their pet bunny to be uncomfortable. A good rabbit carrier comes with a great space in which your rabbit can happily move and enjoy the trip.
With the above considerations, it will be easier for you to classify and decide what will be the best carrier for your pet. The list below will be far the best rabbit carrier you can find in the market today.
What are the best rabbit carriers?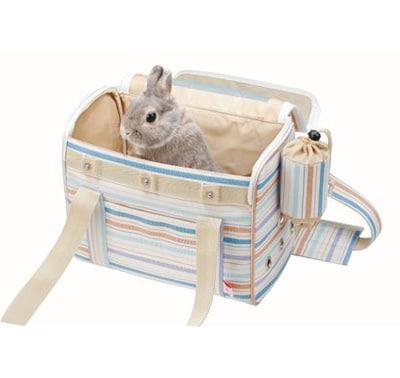 When it comes to durability, good ventilation, safety, and comfort, the below list can be much of a gem to your hassle pursuit of looking, which will work best for your rabbits.
My best overall rabbit carrier is Mancro Pet Carrier.
Mancro pet carrier is my best rabbit carrier. What makes it the best in its overall function. It is easy to carry due to its lightweight.
It is approved for air travel. With that, wherever you go, may it be land or air trip, this carrier will not disappoint you.
It is created with good ventilation. The mesh-made windows will make your rabbits very happy that they can breathe fresh air with the help of its soft kennel.
Notwithstanding its great design for your lovely rabbit to see the good view with both sides and its entry door made with nylon mesh.
It is spacious for the rabbits. It includes locking zippers for safety. Another thing I love about it is its soft-sided washable pads to make your bunny very comfortable while inside.
It also includes non-slip carrying strap band, luggage or seat belt strap, and a washable faux lambskin liner
This rabbit carrier is my second's choice. It is well ventilated, which was created for good overall airflow.
It is well-designed for travel not only because of its great ventilation features but also because of its soft and comfortable bedding made with sherpa lining.
One of the things I liked about it is its collapsible bowl to keep your rabbit hydrated while on travel.
This rabbit carrier comes with a safety strap and safety buckle zippers. These were a good feature in order to prevent your bunny from an unanticipated escape.
Besides, this bag can be strapped to the luggage or car seat to ensure the security of your rabbits during a trip.
FRIEQ pet carrier is very convenient that comes with a uniquely designed carrier with great space for your rabbits. It can hold up to 26 lbs. That shouldn't be a problem for your pet.
It includes a soft-grip handle that wouldn't disappoint your travel experience. The good thing about this carrier is it is foldable and easy to carry anytime you need it.
It was made with a see-through door that can surely make your rabbit enjoy the beautiful view. When it comes to its comfortability, this carrier has a soft-padded cushion making it very comfortable for your bunny during a long tiring trip.
One more thing is the materials made out of it. It is a waterproof carrier that you would certainly love as it can be cleaned easily, or it can sustain your pet's comfortability during the rainy days.
Its name doesn't exclude it from being a great rabbit carrier. This carrier is a light-weight carrier that is perfect for any travels or trips that may come on your way. As it is airline approved, you can bring it during land or air trip.
It is waterproof. That means that you do not have to worry about a little water accident while your bunny is drinking. You can clean it easily without any hassle.
Besides, it is breathable as you do not want to sacrifice your pet's enjoyment along the way. Moreover, it includes an adjustable padded shoulder strap and an easy-grip handle.
It is one of the cutest rabbit carriers I have encountered so far. It is lightweight and can perfectly fit your rabbit without any hassle.
While it is made with high-quality products, it offers great comfort while on your way to a trip or travel.
It is foldable and breathable with its cool holes where you can see your rabbit every now and then.
Kaytee Me travel carrier is a durable rabbit carrier that is made with all high-quality plastic.
It is stain-resistant. It includes a huge door that can make you easily remove your rabbit without any hassle.
As it is a flexible carrier, it can be used not only for rabbits but also for any small pets and birds.
One of the unique and fabulous rabbit carrier that is perfect for pet owners that wanted ease in carrying their lovely rabbit. It has recessed wheels that were made for easy-glide motion.
It has an adjustable strap that can be converted to a padded pull handle made very flexible depending on your needs.
With its four mesh panels that serve as your rabbit's window makes it a promising carrier with great ventilation. For your pet's safety, this carrier was created with top and side enclosure with locking zippers as well as seat belt strap.
It is one of the known pet carriers that has been approved by large airlines.
If you are a pet parent that doesn't want a washable carrier bag, this one is for you. It is a carrier that is made of plastic, which can let you efficiently clean it after being messed up.
It has a foldable handle and a great ventilation feature making your bunny breathe comfortably during the travel. With its clear enclosure or door, you can wonderfully see your rabbit while on your way.
Your pet, in return, can also see beautiful views and attractions.
Conclusion
The listed rabbit carriers above can make you easily choose which will work best for your bunny. Being a pet parent, you know your rabbit so well. So when it comes into picking carrier, you would know based on the given information which will work not only for your rabbit but also for you.
The factors you need to consider should be durable or long-lasting, well-ventilated, safe for them with great zippers or enclosures to keep them inside while carrying them, as well as comfortable, especially if you will be planning on a long trip.