Ant problem can be a serious concern at home. It creates discomfort for family members. Hence, you are firm to eradicate these pests. But your concern is that you cannot put the safety of your pet rabbits and the rest of the family members at risk. That can be a rampant concern because many products can be harmful to pets.
The good news now is that there are ant killers that are safe for your pet rabbits as well as on the children in the house. To give you a guide, we have collected 5 ant killers that are safe for your pet rabbits.
Best Ant Killers that are Rabbit-Safe
Below are some of the best ant killers that you can safely use even around your pets:
#1 Harris Diatomaceous Earth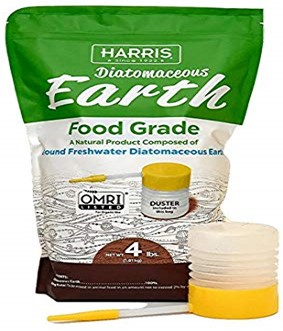 Diatomaceous earth is one of the most powerful and natural ant killers. It is completely safe for people and pet rabbits, but lethal to ants. They impose no threat to men that men can even consume the food-grade diatomaceous earth.
Harris is a prominent brand that offers a complete ground freshwater diatomaceous earth packed in a 5lb bag with entirely no additives or fillers. The brand is made available along with a powder duster to support an easy application. The product is mined in Nevada and packed in Georgia. This processing is done meticulously to make sure that the output is safe for application, whether around rabbits or in the yard.
The impressive thing about the product is that it acts on all kinds of insects that have exoskeletons. You can apply this product to your house, near your house, in the garden, or anywhere you find applicable. You do not have to be worried about your rabbit coming near to it because it does not have any component that might injure him.
If you are a humanitarian, you would see a greater reason for liking this product. Not all companies would see the importance of reaching out, but with Harris, they see the greater picture of extending help to an institution. Purchasing Harris Diatomaceous Earth goes to a valuable cause. Harris grants 10 percent of its proceeds to uphold the Etowah Valley Humane Society in the local.
Key Features:
Works effectively against ants
Available with a powder duster
Safe to people and pets
Applicable anywhere
Mined in Nevada, packed in Georgia
#2 EcoSMART Organic Insect Killer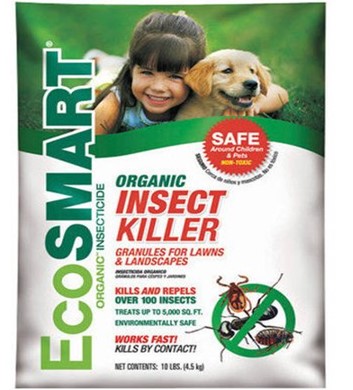 EcoSMART is another popular company that develops a natural insect killer. The main goal of the company is to make all-natural pesticides, and they work on that by consolidating the natural plant oils in the insecticides, which secures armor against diseases and insects without causing harm to your pet rabbits and the kids in the house.
The EcoSmart Organic Insect Killer is made in a handy granule that can be used to your landscaping or on your lawn. The application of a single pack can already serve a maximum of 5,000 square feet. This organic insecticide is completely safe around rabbits and other animals.
The product has active ingredients that hinder the neutral passages which only appear in insects. This is called octopamine receptors. Thus, it does not harm men, plants, and animals. It does not leave any destructive residue behind and exhibits a naturally fresh aroma. It kills and regulates more than 100 insects, mainly ants, cockroaches, millipedes, sowbugs, beetles, crickets, fleas and ticks, earwigs, centipedes, silverfish, spiders, pillbugs, and other creeping pests.
To ensure safety practices, it is recommended that you avoid this product from getting in contact with the eyes as well as the skin. In case it gets in the eye, has it flushed with water. If it gets on the skin, wash it with water and soap. If you notice a persistent irritation, consult a doctor.
Key Features:
Safe for people, plants, and pets
Can act on more than 100 insects
100 percent organic
10 lbs can cover 5,000 square feet
#3 Orange Guard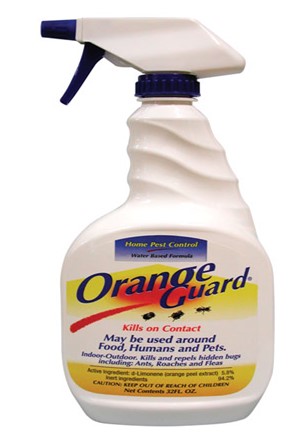 If you are looking for a product that can terminate insects on contact and fends off, the Orange Guard can be the best option. This product is a natural insecticide terminates on contact and serves as an enduring repellent. It has an active ingredient called d-Limonene, also termed as orange peel extract. The use of this product shall drive the ants away without having to destroy their colony. Hence, you get to protect your home from these insects without intruding and interrupting nature.
The product is proven to safe around men, pets, and even on foods because of its water-based characteristic. You can use it either indoors or outdoors. Orange Guard uses ingredients that are recognized by the FDA and are included in GRAS.
Orange Guard is registered in EPA and is offered to daily consumers. It works effectively on all kinds of ants, counting in fire ants. It also acts on roaches, spider mites, fleas, and more. It is proven to work safely in homes to drive away ants, and also in vegetable gardens to regulate the crop-injuring pests.
Key Features:
Safe around people, animals, and even on foods
Kill many ant species
Made from unrefined orange peel
Has an active ingredient called d-Limonene
GRAS listed
#4 EcoSMART 33507
Aside from their lawn granules, EcoSMART also developed a pest control spray that terminates insects on contact. This home pest control acts on more than 100 pests found in homes, including ants, roaches, fleas, and more. You can tell that with this product, you can finally resolve your ant problems.
It is 100 percent organic that uses all-natural plant oils like clove oil and Peppermint, so it has a natural and fresh scent, unlike other chemical products that have a harsh smell. With a non-staining characteristic, EcoSMART 33507 is safe to use near the perimeter of your home while strong enough to be applied in the outside boundaries of the home. It also serves as a repellent.
This product is an ideal choice for every family because it is entirely safe for applications, even around your pet rabbits and kids. It does not damage your fabrics, wood, and carpet. This eco-friendly product does not tarnish groundwater supplies, hurt your pets, or injure mammals, fish, or birds so you can use it confidently.
Key Features:
Terminates on contact
Eco-friendly
100% natural
Fresh scent
Safe on men, plants, and animals
#5 Wondercide Ready-to-Spray
The Wondercide Ready-to-Spray terminates and repels ants, ticks, fleas, and other pests in the house. A 32-ounce jug of this can already treat a space covering up to 5,000 square feet. It is completely safe to apply around children, plants, pets such as rabbits, as well as on beneficial insects like butterflies and bees. The product is 98 percent spontaneously-derived, and it serves to treat the whole lifecycle – eggs to larvae to pupae to adults.
Wondercide works with its key ingredients, namely cedar oil (90%) and ethyl lactate (10%). The cedar oil is a vigorous and efficient insecticide that induces octopamine, which is significant for controlling the heart rate, movement, and behavior. The oil impedes the octopamine neurotransmitter, which pushes away the pests from their spaces. If insects reach the contact to the spray, they become suffocated and eventually die. Mammals, in particular, are also not affected by the cedar oil because they do not have octopamine neurotransmitters.
Along with the jug is a sprayer to facilitate the easy application of the product. You can reload the jug when it turns empty so that you can keep on using the spray. What is admirable about the product is that it comes ready to spray. You do not have to dilute it just as how you do with concentrate products. Simply purchase the product, affix the sprayer, and apply as instructed.
Key Features:
Covers up to 5,000 square feet
Safe around children, plants, and pets
Serves to treat the whole lifecycle
With key ingredients named cedar oil and ethyl lactate
Comes with a sprayer for easy application
Conclusion
If you have pet rabbits in your home and you have a problem with ants, you may be skeptical of using strident pesticides to address the problem. It can be a tough job to eradicate those ants in your house, however, with the use of these ant killers that are safe to use, you can finally terminate these ants without hurting your rabbits or any pets in the house. The use of this product could mean that your pet rabbits can enjoy their stay in your home even when you are addressing your ant problem. The above products can provide you the best solution.
Explore your options by checking the market for more products. Just make sure to check the quality and safety of the products. You may find a lot, but not of them are true to their advertisements. Remember that you have a pet rabbit that needs a danger-free environment. You can enjoy more of its company if you finally get rid of those little creatures that bother the entire family members.