Rabbits are known to be prey, beings, or creatures. They are so-called excellent and fabulous pets nowadays that interact with their surroundings. Just like human beings, rabbits also have their own distinctive characters and personalities which can comfortably adapt and adjust. Their personalities determine the way they like and dislike stuff.
With their great adaptability, they can live in a place and sleep in a bed where they are intended by their owner. However, though they can adapt, rabbits may not speak, but they can tell if they want one thing or not. Not only that, they are a very sensitive pet when it comes to food, but rabbits also require great care as much as possible.
Presenting them a good and proper diet can make them strong and healthy. As they are sought to be one of the highest sustaining pets, considering their bedding will give them such comfort. In your pursuit of finding the best bedding for your lovely bunny, there are things you should consider before even making the purchase.
What are the factors to consider?
As a pet parent, all you wanted for your rabbits is the best for them. In buying them stuff, especially their bedding, giving them a safe and good place to sleep is such a gem. Before even making a purchase, you must consider the following:
Comfort
Comfortability is a must. Bedding is a place where your rabbit stays. It is a place where they spend a lot of time like playing and sleeping. With that, giving them the best comfort as possible will not only make them happy but will boost their behavior and lifestyle.
Comfort is one of the extremely important factors in choosing their bedding. Not only that, you are making them happy, but you are also giving them a relaxing place where they enjoy a lot. Coarse and sharp bedding shouldn't be on your list as it can just harm and hurt them.
Safety
Rabbits may be smart, but they aren't given such a great intellect to identify if their bedding is unsafe and toxic for them. Since bedding is a place where they will stay most of the time, giving them safe and non-toxic bedding should be one of the factors you should consider before buying.
Odor Control
Rabbits can be stinky and messy. Therefore, it is essential for you to take into consideration those beddings that feature great odor control. Good bedding is inlined to maintain a pleasant-smell environment for the rabbits. It takes care of bad odor and unpleasant matter.
Absorbency
One other thing to consider in buying bedding is its great absorption. When bedding is highly absorbent, it tends you to change it rarely. Absorbency makes your rabbit's place drier, cleaner, and more convenient for them to stay, relax, and sleep.
Eco-Friendliness
The fact that you will be using a lot of bedding for your rabbits, especially when you own more than one, it is a great idea to choose bedding which is eco-friendly. There are various rabbit beddings that are environmentally friendly. They are 100 percent biodegradable and compostable. This means it can produce a lesser impact on mother earth.
Dust-Free
A great rabbit bedding is made to contain zero to less dust. Dust-free beddings tend to be helpful, especially when changing the bedding as it gives and saves more of your time as it can make your task a lot quicker and easier. Aside from that, it can also be of help in maintaining your rabbit's health, most especially to their respiratory system.
What are the best beddings for them?
Healthy Pet Critter Care Pet Bedding
Jumbo Premium Small Animal Bedding
Carefresh Small Pet Bedding
Beachy Bedding Plush Pine
Kaytee Extreme Odor Control Pet Bedding
Oxbow Eco-Straw Bedding for Pets
Carefresh Small Pet Bedding Natural Nesting
Grass Mat and Woven Bed Mat for Small Animals
Vitakraft Fresh World Bedding
FLAdorepet
Living World Aspen Shaving
Kaytee Critter Litter Premium Potty Training Litter
Best Overall
Can be expanded twice its volume
Can absorb thrice its weight
Great odor-control
This bedding made by Healthy Pet is one of the best selling beddings. Its brands' mission is more into providing great care and comfort to your lovely pets. Their products are uniquely made in acknowledging your pet's emotional, physical, and heightened biological health.
Healthy Pet Critter Care Pet Bedding is made with composites that are odor-free. It has the ability to control the smell excreted by the rabbits, especially its urine.
It is devised with fluffy bits, which can absorb at least thrice its weight in order to keep your rabbit's place comfortable, warm, and dry. Not only that, it is good with its absorbency functionality and odor-control feature, but this bedding is also dust-free.
The dust-free feature will not only do your cleaning and changing job easier, but it will also give great benefits to your rabbit's health. Moreover, this product is 100 percent biodegradable and eco-friendly. This bedding will be good not only for the rabbits but also for the community.
Editor's Rating:
First Runner Up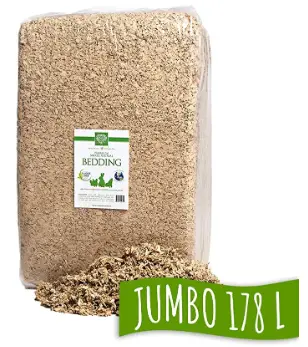 Made from unbleached paper
Safe and is made with non-toxic composites
Can be expanded its volume thrice
Absorbent and comfortable
This bedding will surely be loved and adored by your rabbits. With its high-quality materials made from the USA, it can give exceptional comfort and relaxation. It is made with safe and non-toxic chemicals that would be a good factor in ensuring unwavering health to your lovely bunny.
It is comfortable and very soft. With its great absorbency, it has the ability to absorb huge amounts of liquid. This means you do not have to worry about any mess that may be sitting on your rabbit's home.
With its box size, this bedding can be expanded up to thrice its volume. Jumbo Premium Small Animal Bedding strives to give supplies for the rabbits that are 100 percent high-quality.
Editor's Rating:
Great absorbency
Made with comfy fluff
Low dust and easy to clean
Great odor-control
Carefresh aims to provide great quality bedding for the rabbits. This company strives to offer exceptional products that are not only safe but also relaxing. One of its best selling products is the Carefresh Small Pet Bedding.
Carefresh Small Pet Bedding is made from scratch with a fine and detailed pillow surface while boasting its great absorbency feature. It is made of natural and raw fiber materials that are equipped with odor control functionality to establish a cleaner and better place for the rabbits.
This bedding is available in various artistic colors, which can be combined for a sound, colorful, and comfortable relaxation.
Editor's Rating:
Biodegradable
100 percent Western White Pine made
Dust-free
This bedding is one of the best selling beddings made by Beachy's. It was made with the softest and fluffiest composites for a great and comfortable experience. It is composed of high-quality and graded Plush pines materials from the Pacific Northwest.
Beachy Bedding Plush Pine is dust-free and is made with charming colors. All products made by Beachy are non-toxic and are free from dangerous odor specifications.
It provides a fresh and natural smell that can greatly keep your rabbit's place fragrant. Besides, it is 100 percent biodegradable and can be used in compost or green bin.
This bedding is also made with renewable matters. Moreover, it is highly absorbent and can be greatly expanded.
Editor's Rating:
Safe and comfortable
Great absorbent
99.9% dust-free
This bedding is made by Kaytee. This company is engaged in rendering the best products in consideration of the rabbit's overall health and wellness.
Kaytee is motivated to offer healthy foods and recreational products for various pets for almost 150 years now. With that, this company is considered to be reputable in offering great rabbit stuff.
The Kaytee Extreme Odor Control Bedding provides intensifying comfort with bedding that is soft, smooth, and absorbent.
Being highly absorbent, this bedding can offer a cozy and clean surface that can do cleaning and changing easier. It is 99 percent dust-free making its way for a healthy and sound place to stay.
It is outlined with counterpoised ammonia smells that can last for up to 14 days. This bedding is an ideal bedding that can make your rabbit's experience very comfortable and less-stress.
Editor's Rating:
Odor-free
Dust-free
Non-toxic
This bedding was made by the aid of exceptional technology. It has been composted with great works that hold high fiber wheat straw into a pellet. This means it is more absorbent than those of bedding that are newspaper-based litter.
It can absorb its weight thrice in a huge amount of liquid. Oxbow Eco-Straw Bedding for Pets is a great choice to keep your rabbits from unwanted health problems and allergy attacks.
Editor's Rating:
Carefresh Small Pet Bedding Natural Nesting
Long-lasting odor control
Made with comfy fluff
Low dust and easy to clean
Twice more absorbent
One of the best beddings by CareFresh, which seeks for a great stay experience. This bedding is made expandable, which is known to be bigger than other standard size bedding.
Carefresh Small Pet Bedding Natural Nesting has a refreshing and soothing texture. It is very fluffy and soft. It has great absorbency, which can absorb a huge amount of liquid. It also has an odor-control feature that can last up to 10 days.
It is also less to zero dust risk and is very easy to change and clean.
Editor's Rating:
100 percent natural and handwoven
Multi-utility mat
Non-toxic
This bedding is not only a bedding but also a good tool for the rabbit's teeth. As rabbits are known as good at chewing, this bedding will be great stuff for them. Grass Mat and Woven Bed Mat for Small Animals is made from 100 percent natural matter. It is also hand-woven.
As it is conceptually made with natural grass mass, this bedding is harmless for the rabbits to nibble. It also gives a smoother range that is plausible.
Editor's Rating:
Eco-friendly
Compostable
Absorbent
99. 5% dust-free
The Vitakraft Fresh World Bedding has astonishing odor control highlights that can last up to 14 days. This bedding is ideal for little cages that can give a soft, smooth, and relaxing stay experience.
Vitakraft Fresh World Bedding is made from 100 percent recycled paper material. Its producer is known to support a campaign called PaperGator Recycling in America. It is composed of a non-toxic formula giving a healthy place for your rabbits that gives you no worry. Not only that, it is made from non-toxic materials, but this bedding is highly absorbent and is good for the environment.
Editor's Rating:
Soft and comfortable
Light-weight
Easy to clean
FLAdorepet is one of the best beddings you can choose if you are after comfortability. With its soft and comfortable texture, your rabbits will surely love to stay and lounge. This bedding is made of soft and warm wool. It is carefully made with PP cotton making it very fluffy and soft.
It is washable by hand or machine and making it very easy to clean. It can also be put in cages as it comes from various sizes.
Editor's Rating:
Hypoallergenic
Great absorbency
100 percent natural
Expandable
Living World Aspen Shaving is bedding that boasts its scent-free wood shaving. With that, it doesn't have any odorous oils. This bedding has great absorbency that is perfect for your lovely bunnies. It is also hypoallergenic and safe for the rabbit's skin and respiratory system.
Being high-absorbent bedding, it can absorb up to 4 times its weight and do not repress any bacteria, molds, as well as fungus growth.
Editor's Rating:
All-natural
Non-toxic
Easy to use
This bedding is made with high-grade and great quality materials that are safe and good for the rabbits. It has a unique formula that maintains the materials to be 99 percent dust-free. Not only that, it is dust-free, but this bedding is also highly absorbent.
It was produced from natural minerals, bentonite, and 100 percent non-toxic materials. It can absorb up to 10 times its weight and has a great odor control feature, giving a clean and odorless home to your rabbits.
Editor's Rating:
Conclusion
Just like human beings, rabbits also need great care and attention. Not only are they required to eat healthy foods, but rabbits also need a safe and great place that will give them not only comfort but also a pleasure.
Providing them comfortable, clean, odorless, and healthy bedding is one of the things that can make them feel loved and taken care of.
As a pet owner, it is your sole responsibility to provide them a great place to stay. The listed beddings above are the best beddings that you can find in the market, which you consider buying.
As your rabbits give you happiness, one of the things to do to reciprocate that happiness is giving them things that can give them comfort and great lounging experience.