Rabbits are among the cutest pets in the world. They are one of those happy creatures who love to play. Playing is a very important part of their day. Owners should give them time to enjoy playing, and it's recommended that we buy them toys. Rabbits need to play since they provide intellectual stimulation. Another reason why we have to provide them toys and let them experience play activity is for them to live a happy and healthier life.
Always remember that a bored rabbit is an unhealthy rabbit. Playing is also a form of physical exercise, and rabbits need it to get healthy and to be mentally stimulated. The good news is, there are lots of toys that you can find in the market today. However, but because there are multitudes of toys being sold in the market today. Choosing the best one for your pet can be very difficult. Luckily, this article is written to provide you useful information on how you can choose the best toys for your rabbits.
We will focus more on safe chew toys for your rabbits. Although there are many toys out there, not every single one of them is created equal, and not all of them are safe for your rabbits. As responsible owners, our goal is to ensure that our rabbits are not only enjoying their toys but that it should also be safe for them.
Here are 12 Safe Chew Toys for Your Rabbits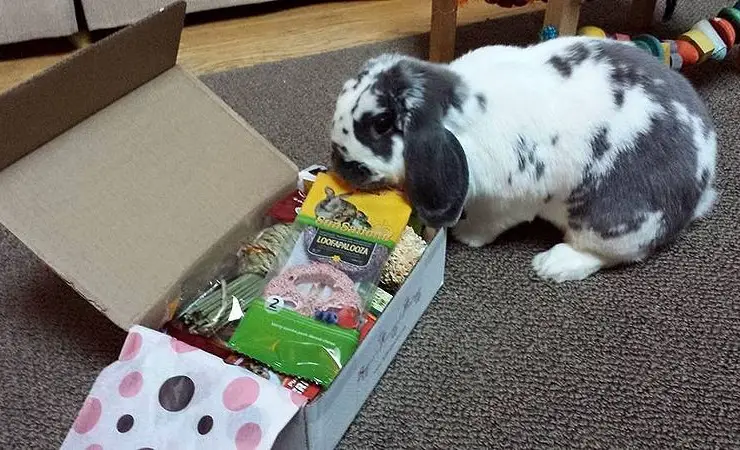 1. Willow and Grass Balls
Willow and Grass Balls are one of the most popular chew toys that you can buy for your rabbit. Your rabbits will love these toys since they are attracted to shapes that can be easily chewed. Although these toys come in different shapes and sizes, each of them is designed to ensure that your rabbit will not have a hard time chewing them.
You also need to note that Willow and Grass Balls that have more sophisticated or detailed shapes are more expensive than regular ones. More importantly, these toys do not contain any harmful chemicals that can ruin the digestive system of your rabbit.
2. Rosewood Pet Bunny Fun Tree
These cute pets are incredible when it comes to searching for food. Believe it or not, rabbits can travel up to 3 miles per day just to look for wood. Rabbits are naturally food searchers, and they love to look for foods that require them to do physical activities. What makes Rosewood Pet Bunny Fun Tree unique is that it encourages your pet inside the enclosure to grab their foods.
This set includes carrot toys that are hanging from the branches, which means that your rabbit will have to exert some effort to get what they want. These toys are safe because, aside from the fact that they don't contain any harmful chemicals, their wide base also provides great stability, allowing your cute friend to reach the highest point without tipping.
3. Mess
If you want things to be a lot simpler, then we recommend that you buy Mess chew toys. These are corn carrots that you can toss inside their spot for them to chew. What's great about these chew toys is that they are not made out of plastic but rather made from corn leaf. And although they are made from corn leaf, they are as durable as any other high-quality chew toys.
Also, you won't have to worry about the chemicals found in the toy since it uses natural dye and glues. Holding this toy and getting your rabbit's attention should be fun to watch. This is one of the few toys that you're rabbit can't ignore.
4. Willow Bridge
For those who are looking for chew toys that can add aesthetic to their rabbit's enclosure, the Willow Bridge is worth checking out. What's great about this particular chew toy is that it can be easily shaped into bridges and even become a hiding spot for them. You can easily place them inside the cage, and your rabbits will chew them up happily instead of your furniture legs. Its branches are made from high-quality wood that does not contain any harmful chemicals.
This particular toy also comes in different sizes. The larger the Willow Bridge is, the more expensive it is, but it also means more fun for your rabbits. You can lay these toys flat or even scatter them inside their cage or enclosure. It can also be used to protect some of the wooden furniture found inside your home.
5. Cardboard Castles
Now, Cardboard Castles are more expensive compared to the toys mentioned above, but they are more fun to look at, and they can easily add beauty to your rabbit's home. Also, the best thing about this chew toy is that you get to save a lot of time from spending many hours building your rabbit a shelter. There's no need for you to create a home or hiding spot from them since Cardboard Castles can already provide this for them.
This toy is very easy to assemble, and it also doesn't contain any harmful chemicals. There's no need for you to worry about your rabbit getting sick because of unhealthy toys. Moreover, this toy does not only provide great fun for your pets, but it also provides them additional shelter.
6. Dumb Bells
If you're looking for a more affordable option, then the Dumb Bells chew toys are your best option. You have to keep in mind though that even though they are affordable doesn't mean that they are less fun than the other toys. Dumb Bells are one of the best-selling chew toys that you can find in the market today. They are mace from safe fibrous materials, which means that your rabbit will surely have an awesome time playing with them become getting sick.
You can easily throw these toys inside their cage, or you can use it to stimulate their intelligence. They will surely be able to perform a healthy dose of physical activity with the help of this toy. And since these are very popular toys, you won't have to worry about where to find or buy them since they can be bought almost anywhere.
7. Trixie Snack Board Logic Toy
This incredible toy is one of the best chew toys out there that can effectively stimulate your rabbit's mind. Trixie Snack Board Logic Toy Keeps your rabbit active and healthy. Because rabbits are natural hunters, this particular toy enforces their instinct. Keep in mind that a busy rabbit is less destructive. By keeping your rabbit active and stimulated, they are less likely to chew on your furniture.
Although these toys are made from plastics, they do not contain any harmful chemicals that can ruin their health. Of course, you have to double-check whether or not you're buying an original or legit item. Allow your rabbits to entertain as they try to seek or hunt for treats.
8. Kaytee Nut Knot Nibbler
The Kaytee Nut Knot Nibbler is recommended for owners who wanted to ensure that their beloved pet rabbits are having an awesome time while playing and chewing with their toys. It's a safe toy that is made from all-natural wood, and their colors are made from vegetable food ingredients – no need to worry about your rabbit getting sick due to chemicals.
Since these toys are made from 100% natural wood, you can expect them to enjoy chewing without worrying about their digestive system. You can also use this toy to play with your rabbit. Throw it anywhere and see how your rabbit responds.
9. Chewy Tubes
Chewy Tubes are also one of the most affordable yet very excellent chew toys for their rabbits. They come in different designs and colors, which make them more attractive for your beloved pets. They are also made from safe and high-quality materials, which give you great assurance that your rabbit can have fun without getting sick.
Another advantage of buying this toy for your pet rabbit is that they are very easy to find. You'll also notice that a lot of rabbit breeders are using this particular toy to stimulate their rabbits. If you want your rabbit to stay more active without getting sick from unhealthy toys, then Chew Tubes are highly recommended.
10.Willow & Wicker Tunnels and Hideaways
Willow & Wicker Tunnels and Hideaways is also one of the best chew toys out there that can also be used as a hideout for your bunnies. Remember that your bunnies love chewing soft twigs, and therefore, this toy should naturally make their hearts hop. Owners also don't have to worry about harmful chemicals from these toys since it's made from natural quality materials.
Save a lot of money by skipping buying or installing hideaways. Be sure that you also check the authenticity of the toy or item before you buy them. Check the reputation of the store or seller before you pay them.
11. Timali Activity Zone
Made from non-toxic wood and includes a lot of chew toys, what more can your rabbit ask for? You need to note, though, that these toys can be quite expensive since they are sold as a set. What's great though about this toy is that your rabbits will have plenty of options to chew from. It's also made from non-toxic materials is safe and can last for a lot of usages
Timali Activity Zone includes 10 rabbit toys in one. This creates a mini activity zone for your rabbit, which helps them become more mentally stimulated and physically active. It's also one of those fun and cool toys that have received a lot of positive reviews and feedback.
12. Apple Wood
For a more practical choice, the Apple Wood is highly recommended. It's the best toys to buy for owners who wanted to save money without compromising the fun and enjoyment of their beloved pets. Aside from being affordable, they can also be bought from many pet stores.
Be sure that you also check for reviews and feedback made by people who have bought these items before. The legit item should be made from safe and quality materials. Also, don't forget to always check the reputation of the seller before you buy from them.
Final Thoughts
Purchasing chew toys for your rabbits should be easy if you know what you're looking for. If this is your first time buying a chew toy for your rabbit, then we recommend that you ask for tips or guidelines from your friends or families who have rabbits and bought high-quality chew toys before. Asking for recommendations from your trusted veterinarians is also a good idea.