One of the vital elements to a long, great, and pleasant life with your rabbits is assuring that they remain and live in sound health. Not only that, you are picky about the food that they eat, but you should also have to be very keen on seeing if your rabbit is fine and healthy in all phases and aspects of their beings.
Rabbits are amazing and incredibly trained friends. However, it should be recognized that your friends, such as these lovely bunnies, are very intimately associated with wild rabbits. For that reason, they have such ability to mask over various indications of disease or illness until they are ill and very unwell. This concept makes them easy prey by the environment.
There are many things that you, like a rabbit owner, have to be careful about. One of these things is if your rabbits developed a hard lump on his or her back.
Though there are different reasons for this instance, one thing is for sure, and your rabbit needs your help.
Realizing that your rabbit has a lump or a bump on his or her back is pretty alarming and scary. In several situations, an immediate response should be offered for a greater possibility of healing. For the greatest odds of detecting a lump in its early phase, the first thing you need to do is to bring your rabbit to its veterinarian.
Bringing them to their doctor should actually be annual. However, if such a lump is discovered, calling their veterinarian immediately is a good idea.
Normally, surgery is the most suitable choice. Lump removal is not too dangerous at all. This can, in fact, give your rabbits the confidence to live in a healthy and sound life after a lump has been removed on their back.
There are numerous distinct kinds of lumps that can be developed in different parts of a rabbit's body. Infrequently, these lumps can be a dilemma. Yet, other times, a lump on the rabbit's back is just solely hideous.
It is important to know what kind of lump a rabbit has or doesn't have so that a rabbit owner can take all the necessary steps to keep their rabbit safe and healthy.
Different types of lumps
Any lump that can develop in any rabbit's body part may turn out to be something pressing and dangerous. All lumps that have been discovered should be promptly assessed by a professional veterinarian. Nevertheless, you should be expressly particular regarding any swelling or inflammation that varies in shape, size, and even color.
There are different implications of why your rabbit has a hard lump on his back. These may be the following:
Lipoma
Lipomas are lumps that are loaded and filled with fatty tissue. Rabbits do not usually get this kind of skin growth. However, it still does hardly transpire.
Lipomas can be discovered and located all over the rabbit's body. It can be particularly found on the back. Normally, lipomas are customarily softer and also more squishy compared to the other kinds of skin growth when they are pinched.
Fortunately, lipomas don't develop as cancer for rabbits. Yet, they can grow fast.
The only main predicament with lipomas is that they can get so big that they create such issues in mobility for the rabbits.
If your rabbit gets a lipoma and it is preventing its movement, the only reasonable solution that is recommended by its veterinarian is surgery or removal of a lipoma.
Cysts
Cysts, on the other hand, are pockets or hollow in the skin. They are normally loaded with a cystic element. This is comparable to a zit that can be found on the human body's outer skin layer.
A cyst can grow and develop all over the rabbit's body. They are normally more solid and firm than a lipoma when they are pinched. In some cases, exotic veterinarians may be capable of pricking or spear the cyst and take out the element inside it out without the need to sedate the rabbit. But on some occasions, cysts that can further lead to adverse health conditions need to be surgically extracted.
Cysts are not usually a concern except if they break or burst, which can eventually direct to infection. When a cyst is rupturing or popped, it can also cause pain for the rabbits, just like other human beings. There is no remedy or treatment that can be administered to make a cyst go off. Yet, antibiotics will be prescribed if there is a matter of infection or contamination.
Cancerous tumor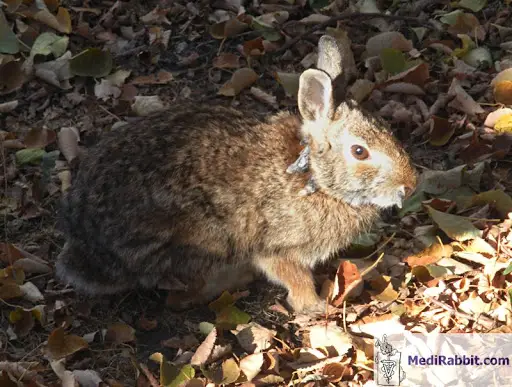 Cancerous tumors can transpire anyplace in or out of the rabbit's body. However, you have to always keep in mind that these tumors aren't always harmful. In some circumstances, a cancerous tumor is cancerous at all. They call it benign. A benign tumor doesn't spread.
Therefore, it can be removed via surgery without causing any further problems and concerns.
Cancerous tumors normally grow and are discoverable in varied, complex ways. Yet, oftentimes, these overgrowths can develop and grow fast. They are also firm when pinched or squeezed. Rabbits being a normal creature, can get this disease just like other pet animals such as cats and dogs. As it can develop in or on any part of the rabbit's body, cancerous tumors can grow on the external or in the internal rabbit's body part.
How to check lumps for prevention?
Most rabbits have heavy and dense hair. With that cause, seeing some bumps and unusual lumps on the body is something that remains very unnoticeable sometimes. Not unless the bump or lumps on the back grows too big.
In order to confirm or make sure that you truly felt or spot any new tumor growth, you should make it a habit of running your hands all over your rabbit's body at least once or twice a month. If a lump is not located or is not available, it is important to take your bunny to the veterinarian to get it checked once in a while.
Conclusion
Lumps may be produced or generated by a progression and a variety of conditions. Some of these conditions are of little value to your rabbits, but other rabbit's conditions are possibly deadly. It is necessary to pass this pressing condition.
Once notable symptoms appear, immediately respond to it so it can instantly be treated. Once it gets checked by a professional veterinarian, not only will the treatment be easy, but your rabbit's overall health won't be compromised. 
As their physiology is pretty distinct and diverse as opposed to other animals such as cats and dogs, rabbit lumps on the back need a much more invasive approach and procedure compared to other pets. If a lump is felt or noticed on the rabbit's back, whether or not it is oozing, leaching, solid, firm, light, and even dangling, it must be checked by a professional veterinarian as soon as possible. If the lump on the back requires to be removed via a surgical operation, this just means that it is dangerous or cancerous, and it should be treated and assessed as early as possible.