Rabbits are adorable animals and this is the reason why many people enjoyed raising them. Being an owner of these creatures, you should take the responsibility of looking after and caring for your pets. That means that you should learn to determine the early signs of illness in rabbits and do the necessary things to prevent or stop it. You can get a cooling mat to keep your rabbit in a healthy condition. Rabbits should be rescued from extreme heat, and getting a cooling mat can ultimately help them.
What is a Cooling Mat?
A cooling mat is a little piece that can wrap the floor of the rabbit cage and shield the pets too. This mat can help your rabbit feel more convenient during heat season. It works to assist your pet in getting more energy to interact with friends.
Getting the appropriate mat for the rabbit, particularly the floor section of its cage, is very critical. It can provide insulation and offer a comforting venue for the pet. It can also protect your pet from foot injuries and skin diseases.
Best Cooling Mats for your Rabbits
You may be checking in the market for some rabbit mats in excellent quality. However, you simply cannot decide which one to purchase. It is good that you don't become impulsive in buying for a cooling mat. You have to make sure that the item is great and safe for your pet. You have to make sure that it is durable and can fit the cage of your rabbit.
You should comply with the responsibility of keeping your pet happy and healthy the entire day. Whether you own a young or adult rabbit, a mat can turn to be its favorite spot to lay down, take a nap, or play.
This basic item can be found on various websites. Put the mat on the pet house, rabbit carrier, floor, and bathroom. You should not place it in a high place or on the sofa. Most of the time, you can take out the mat and wash it when it begins looking dirty. 
If you are having trouble choosing the best cooling mat, here are the best cooling mats for rabbits:
Oxbow Timothy Mat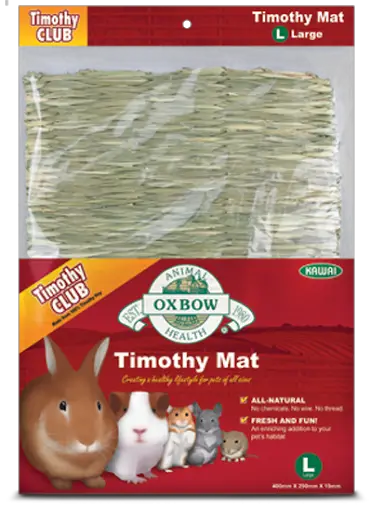 You can place this mat in the cage of the rabbit or put it on the playing venue of the pet rabbit. The rabbit will surely approach this mat and start gnawing at it. Oxbow Timothy mat is naturally made from grass. Thus, it is completely rabbit-safe.
When you unpack this mat, you would instantly notice it's astounding smell and freshness. There is no dangerous threading. The mat is smooth and spongy but is proven to be lasting – unlike other cooling mats that are dry and frail. It will precisely reduce the time of cleaning the cage. Generally, this mat is meticulously created and is superior in quality. It is a huge mat for your rabbit sleeps and play.
Grass Mat Woven Mat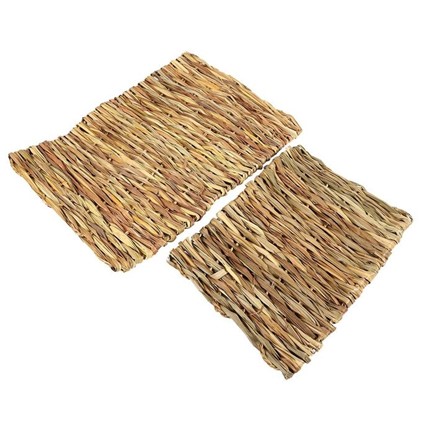 Rabbits will certainly love this kind of cooling mat. Pet rabbits can take a nap while staying in this mat or gnaw it since it is their very nature to bite things. Rabbits burrow on the mat, chews it, and bunt it.
This mat is entirely natural and made by hands, thus, guarantee safety for your pet. The mat comes in little size and viable. Hence, you can place it inside the rabbit's cage. This chewable mat is also squishy, providing a convenient venue for the sleeping of the rabbit. Aside from being bedding, this mat can also be maximized by making it a play-mat or chew toy.
FLAdorepet Summer Rabbit Mat
Place an endowing venue for your cute rabbit through the rabbit resting mat. Created from natural stone, FLAdorepet offers the pet rabbit a soothing feeling. Get this item for your rabbit during the summer season, and it will surely make your pet highly comfortable.
The mat is very strong. Guaranteeing a 100 percent natural material, this mat can do no harm or risk to the rabbit. If you are searching for a distinct spot for your rabbit, then this item would make a great option. It provides your rabbit with a convenient and dry spot to relax, sleep, or play during the warm season.
Its back portion has mesh gaps to make sure that the urine shall not stick in it. It is designed to fit the cage of a rabbit. To can get a scissor to cut it.
Tfwadmx Rabbit Grass Bed
This mat comes in great structure, and it appears that it would endure. It works best as the nesting venue for pet rabbits. The Tfwadmx Rabbit Grass Bed offers pet owners and their rabbits the woven-grass mat.
The maker of this mat designed it for small pets such as rabbits. The mat offers a comfortable and secured hut for the rabbits.
The mat can fit many small cages. Your pet rabbits can conceal themselves and take a good rest in a secured venue. Further, your rabbit naturally enjoys chewing, why not offer it the mat in natural grass? This mat offers your rabbit pets a chewy toy, thus helps them not to feel bored. It is completely safe for rabbits because it is built from natural materials.
THINKPRICE Natural Straw Grass Mat
There is no doubt that pet rabbits would love this kind of mat that is made from grass. It is packed and suits for large rabbits. Mats are particularly beneficial if you have a cage that has a wire bottom because it allows the paws of the rabbit to relax and it is more convenient. Moreover, the mat is made from an entirely organic, deliciously chewable material. The mat is so ideal for your rabbit to gnaw.
Thus, you can utilize this grass mat for pet rabbits either as a rabbit bedding or a chewable toy. Your rabbits are secured in this mat.
Rabbit Flooring Mat for Cage Bottom
If you own a cute rabbit, then please consider bringing a rabbit cooling mat for your pet. Rabbit Flooring Mat for Cage Bottom is simply perfect that you can either use it as a playing spot or bedding for your rabbit.
Add some accessories on the mat, such as chew toys. This mat is made from a superior quality PVC material which is considered to be eco-friendly and non-toxic. Thus, it is completely safe for your pet rabbit. The mat is long-lasting. It is soft so the paws of your rabbit won't get hurt.
The floor of the rabbit cage is a hardwire mesh; thus, you must wrap the floor with this kind of mat to prevent the rabbit from scratching. It is indeed, amazing! The flooring mat will also distant the rabbit from its wastes.
Oncpcare Summer Pet Small Animals Bed
Cooling mats for rabbits is a great choice, especially during heat seasons. It is the microstructure designed in the liner that helps the pet rabbits cool. This mat is made from Polyester and natural fiber, which allow it to cater more space to take in air.
This mat is unscented and completely safe. Since the mat is designed to be detachable, owners can easily wash and clean it. However, one should bear in mind that he can wash and clean the liner through a machine, but never the cover. Simply wet a towel and sponge the area.
The mat also offers a tropical design pattern that gives a kind of gratifying feeling. You should get this kind of cooling mat for your rabbit. It can be used easily.
Conclusion
Getting the right cooling mat for your pet rabbit is not that easy. Practically, you should be weighing various considerations before you finally make up your mind and make your pick. Hopefully, this list can help you decide on the cooling mat for your rabbit.
Rabbits are always shielded from environmental aspects and are nurtured to be healthy. Overall, every item presented in the list possesses its characteristics and properties, as well as strengths. Thus, it would be up to you to determine which among them can give you the best benefits.
You may also consider reading various reviews on rabbit mats to come up with a logical decision. You can learn from the feedbacks and opinions given by previous buyers. You may broaden your knowledge of different cooling mats by knowing the advantages and disadvantages of various mats, so always choose the best product for your rabbit. You may learn why it is important to purchase your pet rabbit a cooling mat and how to select the best cooling mat from the huge options available in the market nowadays.
If you get cooling mats that are made from ingredients that are 100 percent natural, your pet rabbits can gnaw them.  Ask sellers some questions about their products and evaluate the quality. It is also important that you learn how to apply or use it before deciding to buy it.